Functional Sports Nutrition (FSN) is driven by the desire to provide comprehensive education to individuals involved in sport. FSN focuses on the integration of three key areas within sports nutrition:
Functional nutrition for health
This encompasses the fields of nutritional therapy and functional medicine, whichfocus on an athlete's mind-body
health through consideration of systems such as digestion, immunity, detoxification, antioxidant, endocrine,
nervous, musculoskeletal and psychological.
Performance nutrition
This is a more quantitative assessment of nutrition, including assessment of macro and micro-nutrient requirements for competitive gain, including important considerations such as timings of food and fluid consumption around training exertions and competition.
Supplements
These include sports supplements classically used as ergogenic aids, such as sports drinks, protein, creatine,
caffeine and products new to science. It also considers supplements that may nurture individual health, such
as vitamins, minerals, essential fats, antioxidants, probiotics, herbs and whole-food extracts.
Find the editorial valuable

98%

98%

Find the advertising valuable

98%

98%

Find the editorial valuable

99%

99%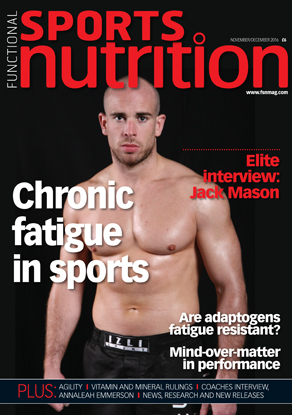 Ian Craig
Editor
Ian is an exercise physiologist, nutritional therapist, NLP practitioner and an endurance coach. He was a competitive middle-distance runner for 20 years and is now a more leisurely cyclist and triathlete. Ian specialises in sport from an integrative health perspective and in his Cape Town and UK clinics, merges the fields of sports nutrition and nutritional therapy in an applied way so that both health and performance are considered.
In addition to editing this magazine, Ian also lectures and writes extensively in the UK and South Africa on the
concept of 'Functional Sports Nutrition'. Additionally, he is the module leader of the Centre for Nutrition Education's 'Competitive Athlete' postgraduate course and is a lecturer at Stellenbosch University's Sports Performance Institute.
Advertise
Talk to our team about reaching thousands of sports nutritionists, coaches and sports professionals.