30 years of Health Food Business magazine
7/4/2017 posted by Target Publishing
Health Food Business (HFB) magazine celebrated its 30th anniversary at this year's Natural & Organic Products Europe show.
Launched in 1987 by Brian McLoughin, Health Food Business was the founding magazine of Target Publishing when Managing Director, David Cann, purchased the title in 2000.
For 30 years Health Food Business has kept the UK and Ireland's independent health food retailers up-to-date with the latest trade news, views, retail trends and training advice.
To celebrate the milestone, Health Food Business invited the industry to its stand at Natural & Organic Products Europe for celebratory drinks, cake and to take part in its special 30-themed steady hand game.
To read the the special 30th anniversary issue of Health Food Business click here.
Thank you to everyone who visited the stand to celebrate 30 years of Health Food Business magazine.
For more information about Health Food Business, to subscribe or to advertise, visit www.healthfoodbusiness.co.uk or email natalie.howlett@targetpublishing.com.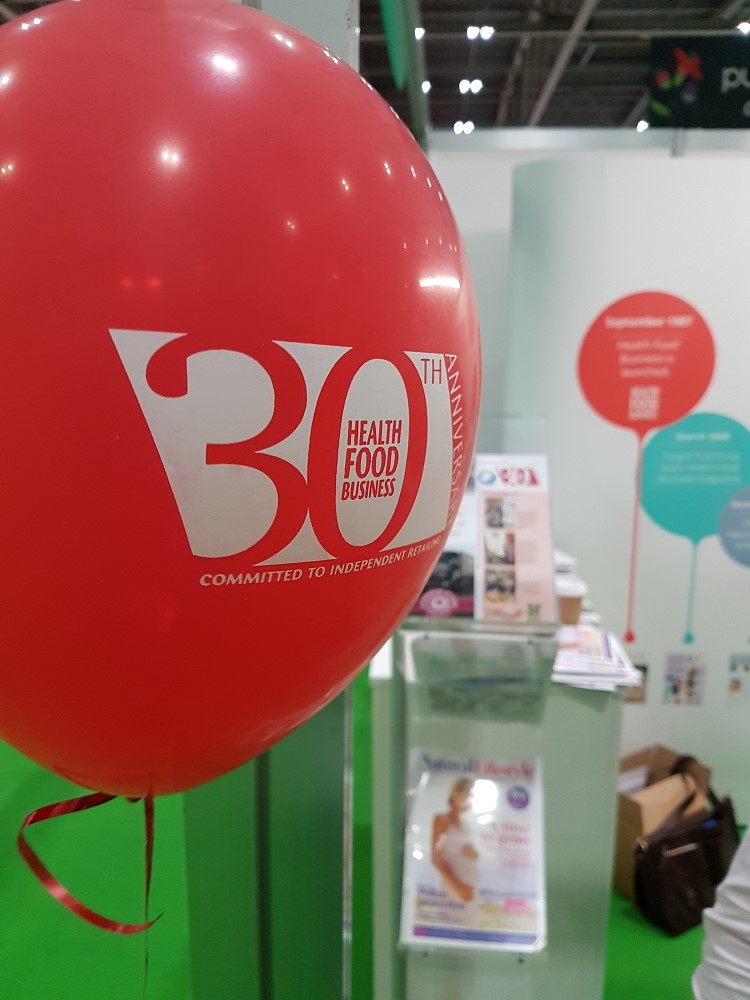 "Congratulations to the Health Food Business team…It's our must-read industry publication, which keeps us up-to-date on all the current trends and topics for independent retailers. Well done for such a great magazine!"
"I've been in the health trade for over 30 years and HFB has been with me during the whole of my and your journey during that time. I've always relied on HFB to keep me in touch with what's going on in the industry outside of my own little universe and as such it has always been an invaluable source of information, news and product trends. Here's to the next 30 years – for both of us!"
"My sincere congratulations to David, Rachel and all of the super HFB team, long may you continue to be such a supportive friend of the industry."
"Congratulations to the whole Target team celebrating your 30th anniversary with Health Food Business. You're such a fabulous and proactive team, which is why you deliver such an easy reading and informative publication to our industry, and long may it continue. Best wishes to you all."