Investing in industry training
5/4/2017 posted by Target Publishing
We have signaled our commitment to retailer training with the announcement of our first bursary scheme in partnership with the Health Food Institute.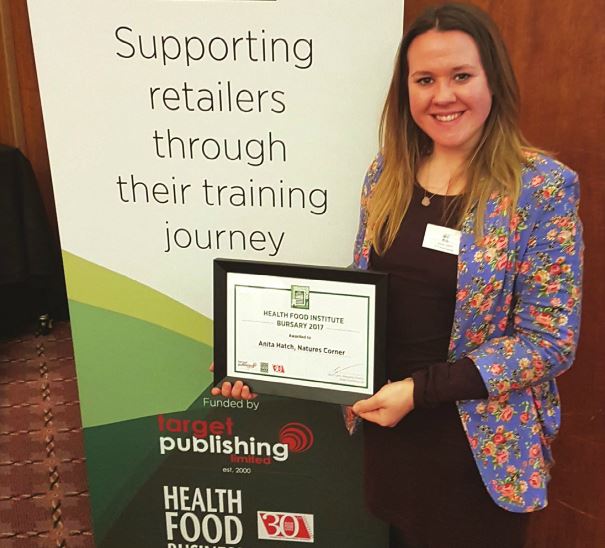 Late last year, we announced the first Health Food Institute Bursary, which was designed to support two people working in health food stores through their training journey.
The Target Publishing Annual Bursary for the Health Food Institute Professional Diploma Course funds two people, either those currently working in a health food store or the retailer themselves, through the Certificate and Diploma courses.
Entries came from a variety of stores, across the UK, and after much deliberation with the Health Food Institute, the two winners have been announced as Anita Hatch, from Natures Corner, and Ben Slater, from Archie Browns.
Managing Director, David Cann, said: "In HFB's 30th anniversary year, we wanted to give something back to the industry that is at the heart of what we do and we have been delighted to be able to support the HFI, and invest in health stores and their training goals.
"We would like to wish our two well-deserving winners, Anita and Ben, many congratulations and we look forward to seeing them thrive during their training journey. Here's to the future success of the bursary scheme."
Our winners
Liz Chandler nominated business partner Anita Hatch, who delightedly picked up her certificate at the Health Food Institute lunch from HFB Editor, Rachel Symonds.
In her nomination, Liz said: "Anita has been with Natures Corner for eight years, starting as Saturday Sales Assistant and progressing quickly to the position of Manager. On the death of my sister, Caroline Withers, (she was my business partner) in 2010, Anita undertook her role and embraced and relished the challenges that arose. In doing so, she was unable to dedicate sufficient time and energy into the HFI Diploma training.
"Now she is in a position to consolidate all her wonderful knowledge into a formal qualification, which will in turn be the backbone to support the advice and education which she gives daily both in store and in the community, whether formally or informally."
Our second winner was Ben Slater, who was nominated by retailer, Helen Swift, of Archie Browns, in Penzance. Helen said in her nomination: "Ben has been working in the store now for 18 months. During this time, he has taken advantage of all of the supplier training and also his colleagues' knowledge, which he has not only used to benefit our customers but also to totally transform his health. This has had an enormous positive outcome for him in both physical and emotional aspects of his life.
"He is now a total advocate for using a healthy plant-based diet and appropriate supplementation to enable people to lead an holistic lifestyle and has become an invaluable member of our team. Ben is now a role model, not only for our customers but also his colleagues, and in his own words has changed from being a mirror to a sponge, which is why I think he would benefit immensely from the HFI training.
"He already has a lot of knowledge but I feel that this training would give him the confidence and ability to not only improve the customers' experience but also mentor and encourage other members of the team."
Both will start their HFI training soon, and Health Food Business will be following their journey and bringing readers updates on how they are getting on.
The scheme will continue next year, with information to come in the coming few months about applying.